ABOUT US
We are the leading company in Asia, partnering with an Australian company specialize in design and manufacturing of pet kennels for transportation usage. We offer the largest range of pet kennels that are built to IATA specifications. Our pet kennels are widely used and accepted by major Airlines in Australia. While our partners focus in distribution in Oceana region, our focus will be expanding the business into other part of the world.

Pet Palace Limited is a proud member of IPATA (the Independent Pet & Animal Transport Association). IPATA is an international network of pet shippers and suppliers that are dedicated to the safe and human transport of pets and other animals.
OUR STORY
Our pet kennel business began 30 years ago in Melbourne, Australia, with only a single small size plastic pet kennel specifically designed for airline pet transportation. This kennel was the first plastic pet kennel that was built to IATA specifications to substitute traditional wood kennels.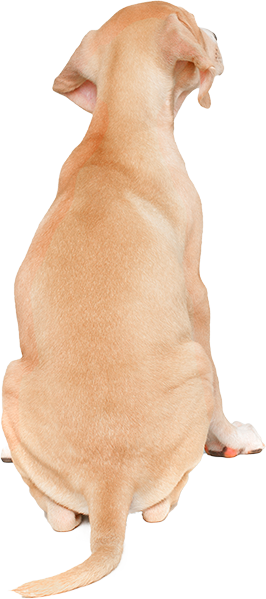 Today, our kennels come more than 10 different sizes including the world's largest plastic pet kennel. Our kennels are widely used by major pet transporters in Australia and accepted by major Australian Commerical Airlines.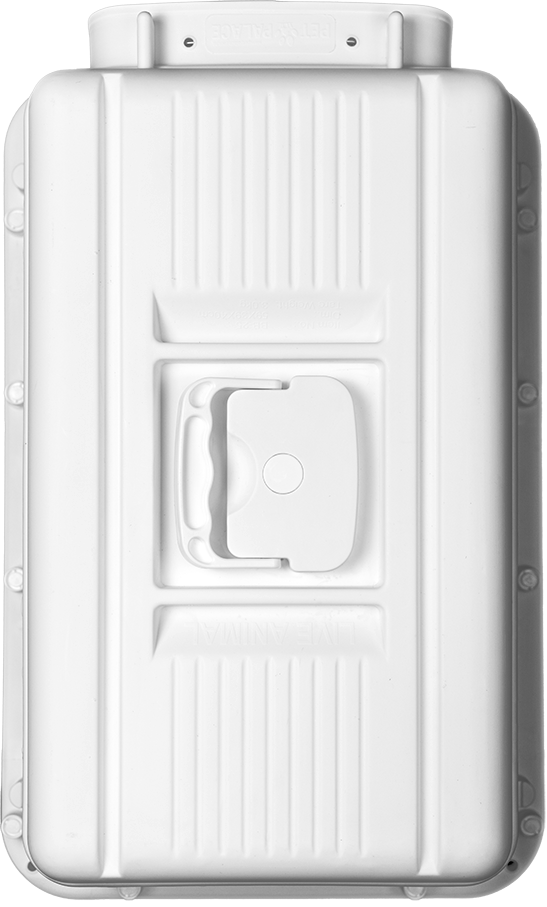 MOST

DURABLE


AND

TOUGH


IN THE MARKET

Today, our kennels are now a 3rd generation design with several improvements made over time on materials and structure to ensure greater safety for both passengers and pets while travelling. We are confident that our pet kennels are the most durable and tough kennels that you can find in the market.
OUR PET KENNELS
All our pet kennels are designed to meet the IATA's Live Animals Regulations (LAR). This is the worldwide standard for transporting live animals by commercial airlines. The objective of the LAR is to ensure all animals are transported safely and humanely by air.
In summary the IATA container requirements as follow:

01
Comfort
The container must be large enough for pets to stand, turn around, and lie down.

02
Safety
All interior edges must be smooth or rounded to avoid animal injury.

03
Resistance
The container must be well constructed and rigid enough to withstand freight damaging and prevent animals escaping through gaps.

04
Security
The container door must be constructed so that accidental opening cannot occur, either from the inside or the outside.

05
Health
Adequate ventilation with at least 3 sides with majority of ventilation being provide on the upper part of the container.

06
Provision
Separate food and water containers must be provided and accessible for replenishment purpose.
Unique Features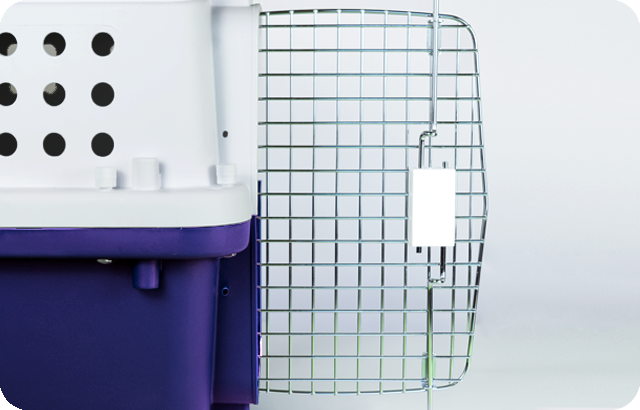 Dual spring lock
ensures the door is secured properly and prevents accidental opening.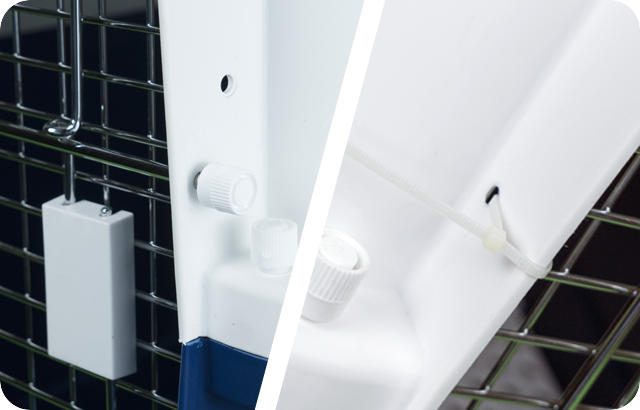 Security Bar / Zip tie hole
additional security for door locking to avoid unauthorised access.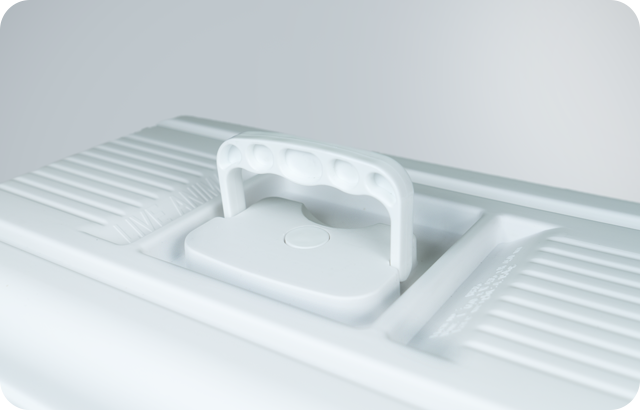 Carry handle
ease of carrying and transporting the pet kennel.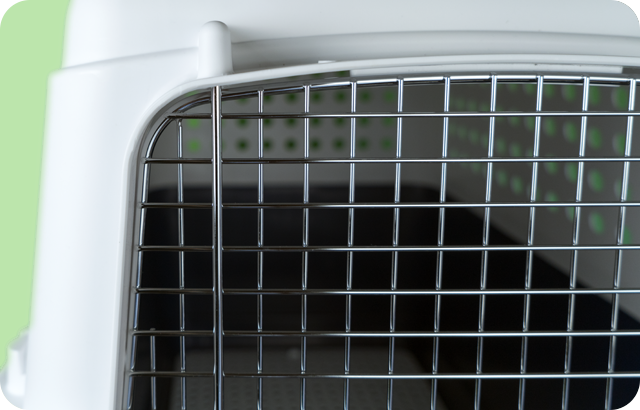 Tight grid mesh
within 15mm or 25mm grid mesh, ensure pets paws from reaching out.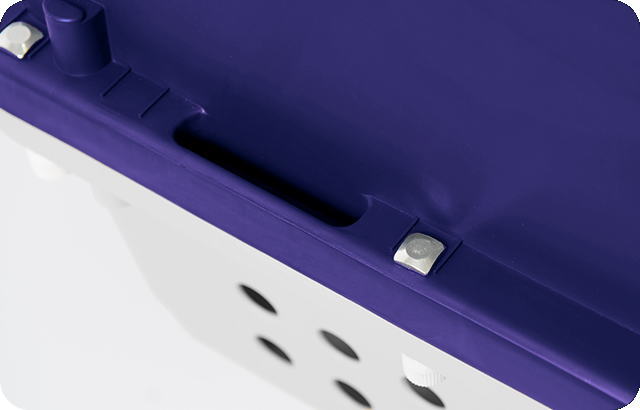 Side handle
ease of carrying and transporting the pet kennel.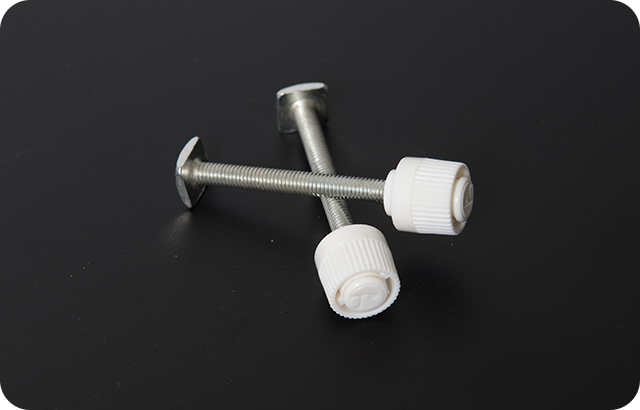 Easy lock-down screws
metal bolts and nuts, secures the carrier with hand tightening. No tools necessary.
Accessories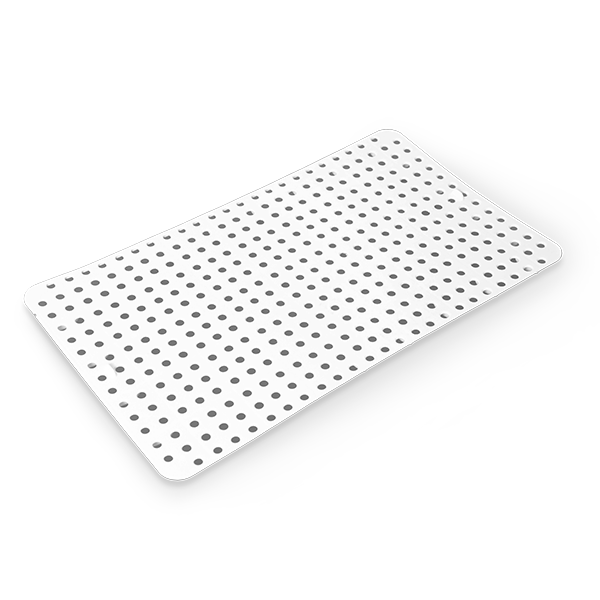 Raised Floor
keeps pets separated from urine passed during the flight.
Funnel
allows airline employees to replenish the water bowl without the need to open the wire door.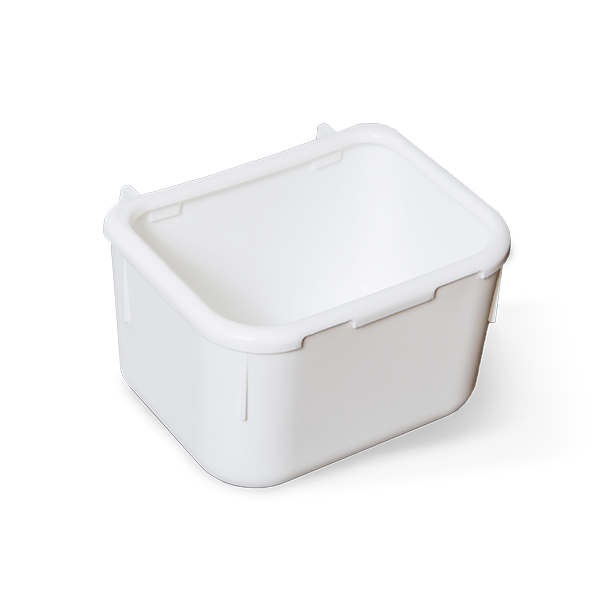 Water bowl
with spill resistance lip and hooks on securely to all metal wire carrier doors.
MORE ABOUT IT
Our kennels have been extensively evaluated and approve to be used on Australia's National Carrier-Qantas. They are made from at least 3 mm injected molded quality plastic, that makes cleaning easy, removes quarantine concerns that arise from wood cages when used for international travel, minimizes disease transfer and reduces overall weight.
Today our kennels come in more than 10 different sizes with what we believe the world largest plastic kennel. They all has separable upper and lower parts for storage ease and contains metals screws and nuts to join them. Additional accessories such as water bowl and refill funnel are also available for longer transport journey requirement.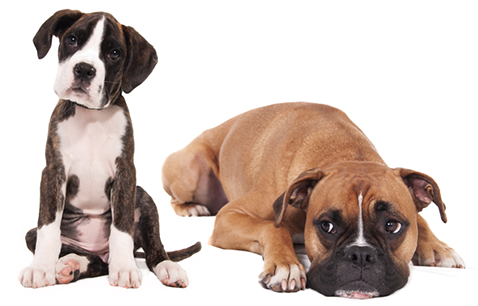 CHOOSING THE RIGHT SIZE
It is important you purchase the right sized container for your animal. Airlines use the following indications to ensure the animal has enough space to turn about normally while standing, to stand and sit erect, and to lie in a natural position.
The length of your pet (L) must be taken from the tip of the nose to the base of the tall. The height of your pet (H) is from the top of the head to the ground.
If your pet has ears that are erect, you need to measure from tip of ears to ground (especially when entering the UK). Both measurements must be taken when your pet is standing erect.
Add 5 cm to both measurement (L) and (H), and that is the length and height your pet's travel crate needs to be.
SIZE CHART

Model no.
length (cm)
width (cm)
height (cm)
BB15
50
35
35
BB25
59
39
40
BB35
65
44
45
BB45
75
50
53
BB55
85
56
60
BB75
115
66.5
80
BB85
115
66.5
85
PP60N
100
63
70
PP70
115
66
80
PP80L/H
115
66
85/90
PP90
131
80
85
PP100
131
80
100